BROADFLEX Rubber Foam Tube Insulation
We adopt advanced production equipments and sophisticated detection equipments to ensure quality of rubber foam tube and our products have passed BS476, FM, SGS, UL, ASTM certificates.
Wide Supply Scope
Thickness

in(mm)

3/8",1/2",3/4",1",1-1/4",1-1/2",2"

(9,13,19,25,32,40 and 50mm)

Inner diameter

in(mm)

1/4"ID to 6"IPS(ID 6 to 168mm)

Length

ft(m)

6.82(2m), 6(1.83m)
Applications of BROADFLEX Rubber Foam Tube Insulation
1. Air-condition
2. Automobile
3. Heat resistance of shell of big tank and piping
4. Electronic appliance
5. Sports and medical equipment
6. Machinery parts
7. Sound absorbing decorations in air ducts and entertainment places
8. Other industry and commercial fields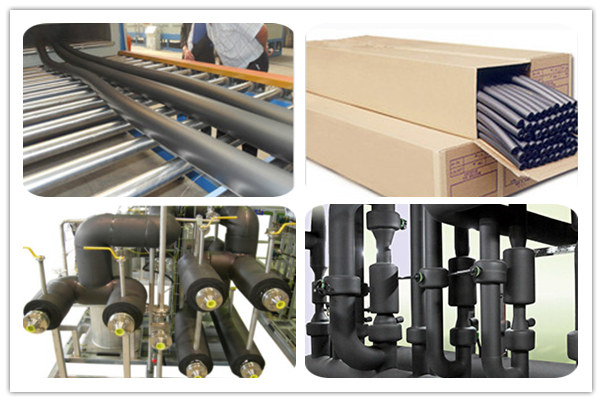 Packing & Delivery of BROADFLEX Rubber Foam Tube Insulation
Packing:  In exported standard cartons, OEM service can be offered.
Delivery time: Our powerful production capacity will ensure timely delivery time, normal  5-7 days is enough!
Technical Data of BROADFLEX Rubber Foam Tube Insulation
Property

Unit

Value

Test Method

Temperature range

°F (°C)

-297~220(-183~105)

-

Density range

Ibs./ft3(kg/m3)

3.0~6.0(48~96)

ASTM D 1622 or D1667

Thermal conductivity

75 °F mean T (24 °C)

Btu·in./h·ft2·°F(W/mK)

0.27(0.039)

ASTM C177 or C518

90 °F mean T (32 °C)

Btu·in./h·ft2·°F(W/mK)

0.276(0.040)

Water vapor permeability

Perm-in (kg/m ·s ·pa)

0.08(1.16 X 10-13)

ASTM E96 procedure A DIN 52615

Flame spread and smoke developed index

Class 1 & Class 0

BS476 part 7 & part 6

V0

UL94

Water absorption, by volume

%

0.2

ASTM C209

Mold growth

-

Meet requirement

UL181

Bacterial resistance

Meet requirement

ASTM G22

Fungi resistance

Meet requirement

ASTM G21/C1338

Resistance to agent chemical

-

Stable performance to agent chemical

-

Ozone resistance

-

good

ASTM D1149

Aging resistance

-

150 hours, slight wrinkles, no cracks, holes or distortion

-
Welcome to send your message to us