BROAD Glass Wool Insulation with Various Packing
BROAD glass wool blanket is made of pure non-color glass flat board as raw material, which comes directly from flat glass factories. With excellent quality, competitive price, prompt delivery, we have exported our glass wool blanket to over 80 countries.
We provide various packing
1.Standard package: Plastic bag (inside)+Woven bag(outside).
2.Heat Shrinkable PE bags.
3.We can provide package with various color (White, Green, Yellow, Pink etc).
4.We can design package as per your requirement (OEM service accepted).
Wide Supply Scope
| | |
| --- | --- |
| Spec | Supply Scope |
| Length   | 5-30m |
| Width | 0.4m-1.2m |
| Thickness   | 25-200mm |
| Density   | 10-50kg/m3 |
Features of BROAD Glass Wool Insulation
1. Good Fire-proof performance.
2. Excellent Damp-proof property.
3. Excellent rebound property, When reaches the destination will rebound almost to the original level in 24 hours after been unpacked.
4. Low moisture absorption; stable physical properties.
5. Sound absorption and noise reduction; it can effectively prevent sound from spreading.
6. Non-poison, Easy for construction; cutting at will.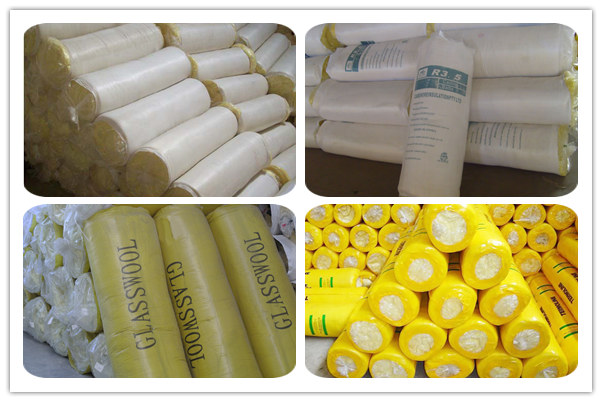 Delivery of BROAD Glass Wool Insulation
Delivery time: our powerful production capacity ensures shortest delivery time, normally 5-7 days is enough.
Specifications of BROAD Glass wool insulation
Model

Density (Kg/m3)

Thickness
(mm)

Width
(mm)

Standard Length(m)

Loading qty/40HQ (rolls)

BR-10T50

10

50

1,200

25

500

BR-10T75

75

1,200

25

330

BR-10T100

100

1,200

15

450

BR-12T40

12

40

1,200

25

600

BR-12T50

50

1,200

20

600

BR-12T75

75

1,200

25

260

BR-12T100

100

1,200

20

224

BR-16T25

16

25

1,200

30

520

BR-16T50

50

1,200

25

280

BR-16T75

75

1,200

20

224

BR-16T100

100

1,200

15

224

BR-24T25

24

25

1,200

25

410

BR-24T50

50

1,200

20

260

BR-24T75

75

1,200

15

224

BR-24T100

100

1,200

10

260

BR-32T25

32

25

1,200

25

280

BR-32T50

50

1,200

15

260

BR-32T75

75

1,200

10

260

BR-32T100

100

1,200

8

224

BR-50T25

50

25

1,200

15

330

BR-50T50

50

1,200

10

224

BR-50T75

75

1,200

7

224

BR-50T100

100

1,200

6

200
Welcome to send your message to us